Introduction
The way healthcare and pharmaceutical procurement transparency and governance is regulated today is very different from how it was done in ancient civilisations. Systems as different as those of ancient Egypt and Greece and as detailed as the law books of the Babylonians laid the groundwork for how we regulate healthcare today. But the healthcare industry around the world is struggling with issues of transparency, fairness, and equality in the face of modern problems like the COVID-19 outbreak. Using the COVID-19 pandemic in South Africa as an example, this article looks at how healthcare regulation has changed over time, what the role of regulatory bodies and health technology assessment is, and how important it is for the pharmaceutical industry to be more open.
The Beginnings of Medical Ethics
Ancient Egyptian History
Because health was so important to the ancient Egyptians, they had a very detailed set of rules for it. The Ebers Papyrus, a medical book from about 1550 BCE, is a great way to learn about how health care was provided in ancient Egypt. Along with thorough explanations of diseases, treatments, and surgical procedures, as well as instructions for policing the medical industry.
Pharaohs were instrumental in shaping medical policy. They chose a top doctor to be the "Overseer of Physicians," whose job it was to keep an eye on how the other doctors were doing and take strict action against any cases of malpractice. The Ebers Papyrus also talked about how important clean living conditions were for lowering the number of diseases.
Greek History
The ancient Greeks made a lot of progress when it came to healthcare. Hippocrates is the most well-known historical figure in this area. He is known by many as the "Father of Medicine." Hippocrates paved the way for modern medical ethics by emphasising how important it was for doctors to do no harm.
Ancient Greeks made the Hippocratic Oath, which is a oath taken by physicians to this day. Privacy of the patient, reducing risk, and the importance of education and ongoing training were all outlined. Even though healthcare laws in ancient Greece weren't as clear as they are today, Hippocrates' ideas helped the field and ethics of medicine develop.
Ancient Mesopotamia
The ancient Babylonians of Mesopotamia set up a complete method for managing healthcare. The Code of Hammurabi, one of the oldest known legal systems, wrote down the rules for good medical practice. Doctors were held responsible, and they had to follow rules and laws.
In the Code of Hammurabi, fair payment for medical services was a big deal, and people who gave bad care were punished. If a doctor's care causes a patient harm or death, the doctor could have his or her hand cut off, among other things. This method was made to make doctors more accountable and cut down on medical malpractice.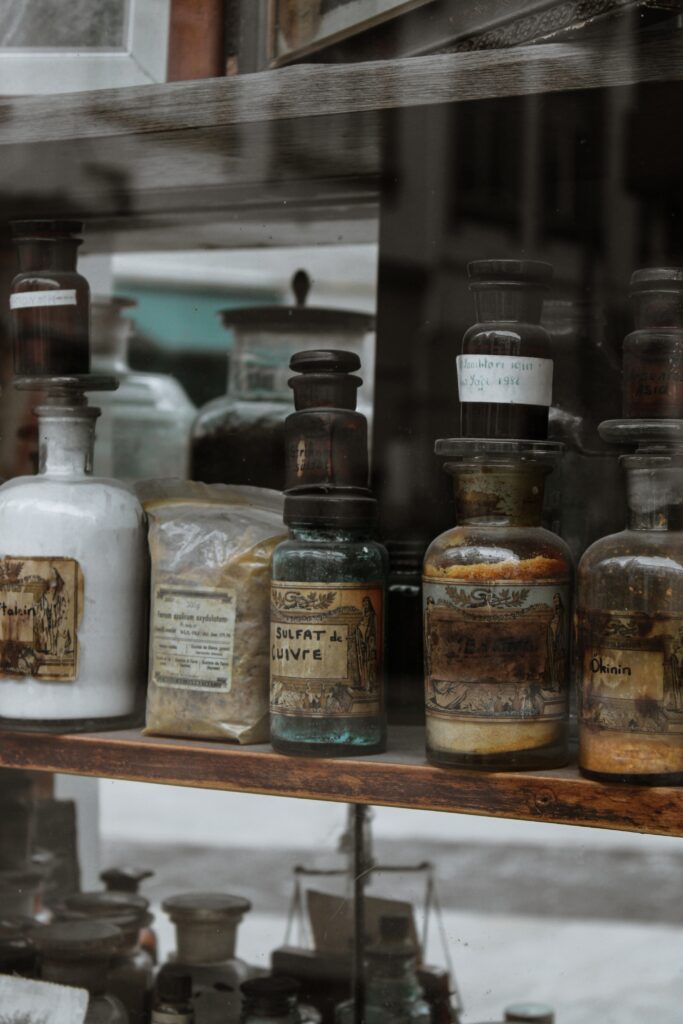 Pharmaceutical Regulation and Regulatory Growth
In 120 BC, King Mithridates VI of Pontus made a mixture called "Mithridatium" that was thought to be a cure-all until the late 18th century. Control through drugs has come a long way since then. In 1540, England's Apothecaries Wares, Drugs, and Stuffs Act was passed in England, marking the beginning of pharmaceutical inspections and the regulation of the production of this substance and other medications. Rapid changes in medical study and technology have made it necessary for regulators to make sure that new drugs, medical devices, and therapies are safe and effective. In the past of pharmaceutical control, there have been many important changes. One of these is the creation of Pharmacopoeias, which are authoritative guides on how to produce quality drugs. Frederick II of Sicily made the first proclamation in 1240, and the first modern Pharmacopoeias were made in Europe in the 1600s.
Standards in the modern world and the rise of specialised groups
The rise of the life sciences, especially chemistry, physiology, and pharmacology, in the 1800s led to the regulation of drugs as we know them today. At this time, rules and regulations were made because of a number of problems. As an example, more than a hundred Americans died from diethylene glycol poisoning after the sulfanilamide disaster of 1937. This led to the Federal Food, Drug, and Cosmetic Act, which was passed in 1938. All new drugs are required by this law to undergo premarket notification before they go on the market. Another important turning point was the thalidomide disaster, in which thousands of babies were born with birth defects because of a sedative. Because of this, two laws were passed, the Drug Amendments Act in the US and the Committee on the Safety of Drugs in the UK, to make sure that all future drugs are safe and effective. The current conduct in the pharmaceutical industry is a direct result of these tragedies and the regulatory actions that followed.
Health Technology Assessment Organisations and Governmental Regulatory Agencies
Today, many different people and organisations help the pharmaceutical industry find new medicines, get them approved by regulators, and sell them. Health technology assessment (HTA) bodies and regulatory agencies are just two of the many groups that play a role in the decision making.
Regulatory groups like the Food and Drug Administration (FDA) in the U.S. and the European Medicines Agency (EMA) in Europe are in charge of giving new drugs their first go-ahead in their respective areas. Their primary concern is the quality, efficacy, and safety of a drug as demonstrated by rigorous scientific research like randomised controlled trials (RCTs). Before a product is placed on the market, regulatory bodies make sure it is safe and effective.
The National Institute for Health and Care Excellence (NICE) in the United Kingdom is an HTA body that is very important in deciding whether or not a product should be funded by the healthcare system. HTA bodies evaluate the relative value of a product in the context of standard clinical practice by considering factors such as the product's effectiveness, its cost, and the ramifications of its use on patients, society, the law, ethics, and government.
For low-income countries to be able to get safe, ethical pharmaceuticals at affordable prices, they must have strong regulatory frameworks and effective HTA methods. Before they can be sold to the public, drugs must pass strict tests for quality, safety, and efficacy. These groups carefully look at pharmaceutical goods and weigh their benefits and risks to protect the public's health through rigorous testing. The effectiveness and value of medical treatments can be measured in a systematic and empirical way. HTA shows which drugs should be offered in a country's healthcare system by looking at how well they work in the healthcare system, how they affect the economy, and how they affect society. By combining strong regulatory processes with HTA, low-income countries can encourage ethical behavior in the pharmaceutical industry and make sure their people have access to affordable, high-quality drugs.
COVID-19 Vaccines Supplied by Pfizer and J&J in South Africa: Pharmaceutical Procurement Transparency and Governance
The COVID-19 pandemic has brought up a number of challenges for the world's health system. Unfair sharing and purchase of vaccines, especially in low-income countries, has been a major problem. The Health Justice Initiative (HJI) of South Africa did some research that uncovered a disturbing fact: South Africa paid more than twice as much for COVID-19 vaccines as Western countries did.
According to the Daily Maverick, vaccines for South Africa came slowly because they were shipped in a "drip-drip" fashion. The World Health Organization (WHO) calls this a "moral failure" of unequal distribution of vaccines around the world. The South African government had contracts with J&J, Pfizer-BioNTech, the Serum Institute of India, and the Global Alliance for Vaccines and Immunization (Gavi), which the HJI used to come to its conclusions. A court order forced these contracts to be made public, which was a win for transparency.
HJI claims that South Africa overpaid for COVID-19 vaccines compared to Western countries because it was "bullied" into unfair deals with some pharmaceutical companies. According to the data, one dose of J&J's vaccine cost $10 in South Africa, which is 15% more than in the EU. The figures showed that South Africa paid Pfizer-BioNTech about 33% more than the rest of the African Union. The Serum Institute of India made a generic form of the Oxford-AstraZeneca vaccine, and South Africa paid 2.5 times as much as the UK for it.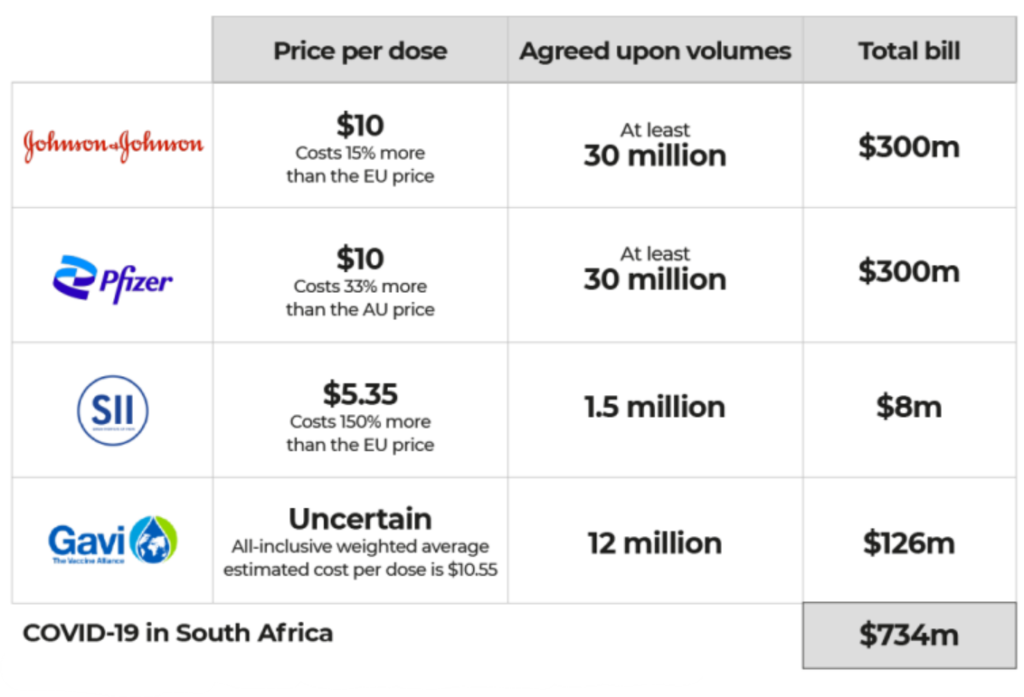 South Africa was expected to spend at least $734 million on COVID-19 vaccines, including about $95 million in advance payments with no guarantees of on-time delivery. This shows that there was a lack of price transparency and control in healthcare procurement. The contracts also stipulated that South Africa had to get permission from Pfizer and J&J before donating or selling any paid-for doses. In these contracts, it looks like Pfizer and J&J were given terms that were extremely one-sided and heavily favouring them.
This example could be disastrous for the development of future pandemic preparedness mechanisms and infrastructure. It highlights the need for change, transparency, and fair terms of pharmaceutical procurement. This shows how important it is to have fair and binding international deals to prevent unfair agreements from happening again.
The situation in South Africa shows power imbalances in the global pharmaceutical procurement transparency and governance of healthcare technologies. Governments, pharmaceutical companies, and international organisations must ensure that this type of procurement mechanisms does not recur in future pandemics. It shows how important it is to improve how healthcare is bought and to make the buying process more transparent so that access to life-saving vaccines and other essential medicines are available to all.
Conclusion
The COVID-19 pandemic has shown that the international healthcare system needs to be more fair, transparent, and accountable. During the pandemic, we saw power imbalances, secrecy, and unethical behavior that still happen in the healthcare industry today. If we learn from these mistakes, we can change the systems on pharmaceutical procurement transparency and governance. Governments, regulatory bodies, and the pharmaceutical industry must work together to find answers to these problems and set up a fair, open, and responsible global healthcare system. To keep this from happening again, the lessons from this pandemic should lead to a rethinking of how things are done now and the creation of more transparent institutions. The world's population relies on it for their health and safety.
Bibliography
Metwaly AM, Ghoneim MM, Eissa IH, Elsehemy IA, Mostafa AE, Hegazy MM, Afifi WM, Dou D. Traditional ancient Egyptian medicine: A review. Saudi J Biol Sci. 2021 Oct;28(10):5823-5832. doi: 10.1016/j.sjbs.2021.06.044. Epub 2021 Jun 19. PMID: 34588897; PMCID: PMC8459052.
Bottalico L, Charitos IA, Kolveris N, D'Agostino D, Topi S, Ballini A, Santacroce L. Philosophy and Hippocratic Ethic in Ancient Greek Society: Evolution of Hospital – Sanctuaries. Open Access Maced J Med Sci. 2019 Oct 13;7(19):3353-3357. doi: 10.3889/oamjms.2019.474. PMID: 31949542; PMCID: PMC6953930.
Holmes B. The most ancient medical practice laws. The code of Hammurabi, 2200 B. C. JAMA. 1905;XLIV(4):293–294. doi:10.1001/jama.1905.92500310037001j
Rägo L, Santoso B. Drug Regulation: History, Present and Future. Drug Benefits and Risks: International Textbook of Clinical Pharmacology, revised 2nd edition (2008) 65-77.
Wang T, McAuslane N, Liberti L, Leufkens H, Hövels A. Building Synergy between Regulatory and HTA Agencies beyond Processes and Procedures-Can We Effectively Align the Evidentiary Requirements? A Survey of Stakeholder Perceptions. Value Health. 2018 Jun;21(6):707-714. doi: 10.1016/j.jval.2017.11.003. Epub 2017 Dec 9. PMID: 29909876.
Ofori-Asenso R, Hallgreen CE, De Bruin ML. Improving Interactions Between Health Technology Assessment Bodies and Regulatory Agencies: A Systematic Review and Cross-Sectional Survey on Processes, Progress, Outcomes, and Challenges. Front Med (Lausanne). 2020 Oct 16;7:582634. doi: 10.3389/fmed.2020.582634. PMID: 33178721; PMCID: PMC7596325.
Analysis finds South Africa was bullied into Covid-19 vaccine contracts. https://www.dailymaverick.co.za/article/2023-09-11-analysis-finds-sa-was-bullied-into-one-sided-imperial-and-immoral-covid-19-vaccine-contracts/
South Africa 'held to ransom' by big pharma, overcharged for COVID vaccines. https://www.aljazeera.com/news/2023/9/6/south-africa-held-to-ransom-by-big-pharma-overcharged-for-covid-vaccines