Introduction
Drug shortages of long-acting GLP-1 receptor agonists and dual GLP-1/GIP receptor agonist have emerged unexpectedly and persisted through the first quarter of 2023. This occurred due to an unexpected increase in demand without adequate adjustment in production. The shortage has created new access barriers for patients previously using or wishing to initiate these products for glycemic management, weight loss, and/or cardiovascular risk reduction. Past strategies for addressing drug shortages in the hospital and community settings included stockpiling, rationing, and utilising alternative therapies. However, the lack of generic options within the GLP-1 receptor agonist class presents a unique challenge for diabetes care teams.
Due to high costs and limited availability, some patients are turning to social media sites and online clinics to obtain GLP-1 receptor agonist medications. These sites may offer compounded versions at a discounted price, but the safety of these medications is uncertain as each GLP-1 receptor agonist is only available as a branded medication manufactured by a single company. Compounded versions may not have a known source for the active ingredient. Healthcare providers need to overcome barriers related to the shortage and mitigate undesired negative consequences from an inability of patients with type 2 diabetes mellitus to obtain GLP-1 receptor agonist therapies amid this global access challenge.
What are GLP-1s?
GLP-1-based therapies, such as GLP-1 receptor agonists, glucose-dependent insulinotropic polypeptide (GIP) receptor agonists, and dipeptidyl peptidase 4 (DPP-4) inhibitors, improve glucose control through various mechanisms including increased insulin secretion, slower gastric emptying, and reduced postprandial glucagon and food intake. These therapies do not typically cause hypoglycemia on their own but may occur when used in combination with additional glycemic drugs. Apart from GLP-1 therapies reducing glucose levels (HbA1c) they also offer additional benefits which will influence the prescriber in finding the correct drug for a specific patient outcome.  Dulaglutide, liraglutide and subcutaneous semaglutide have been approved for reducing the risk of major adverse cardiovascular events in adults with type 2 diabetes mellitus with established cardiovascular disease, dulaglutide is approved for use in type 2 diabetes mellitus with multiple risk factors, and both liraglutide and semaglutide have been approved for chronic weight management.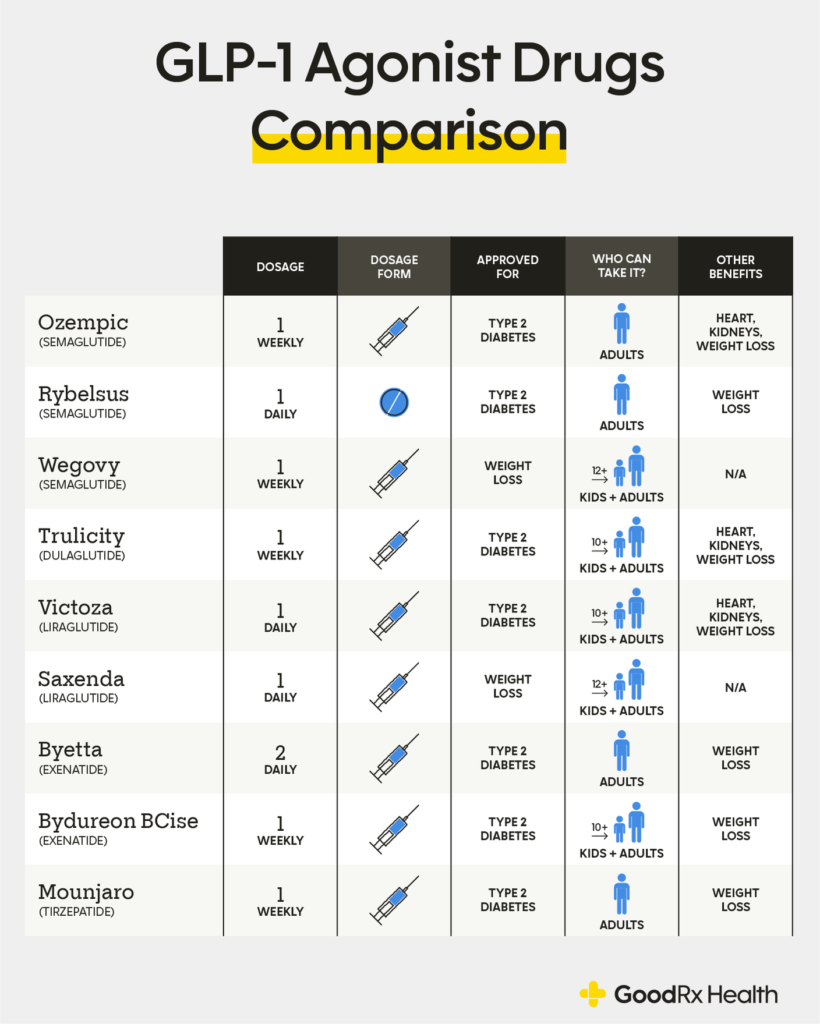 Source: GoodhealthRx
The use of GLP-1 therapies for weight loss is inhibiting access to advanced diabetes care.

The growing popularity of the GLP-1 drug called Ozempic, FDA approved to treat type 2 diabetes mellitus, has contributed to the prescription weight loss drug market's significant growth, which is now expected to be a nearly $2 billion industry in 2023, according to MarketData Enterprises. Digital health companies have made medications like Ozempic easier to obtain by providing prescriptions online, but safety concerns have been raised as the prescriber often does not have access to the patients' medical history. Ozempic prescriptions reached an all time high earlier this year, with over 373,000 prescriptions
filled in the last week of February 2023, an increase of 111%
compared to the same week in 2022 and more than half were new prescriptions. The drug's popularity has been fueled by social media buzz, with celebrities sharing their testimonies about how semaglutide helped them shed unwanted weight. Ozempic is registered to treat type 2 diabetes mellitus, while Wegovy is approved for chronic weight management. Both medications contain the active ingredient semaglutide. Although Wegovy was approved by the FDA in 2021, it was not widely available for most of last year, leading people to use Ozempic instead. Wegovy was undersupplied starting in March 2020 but has since come back in stock in selected countries.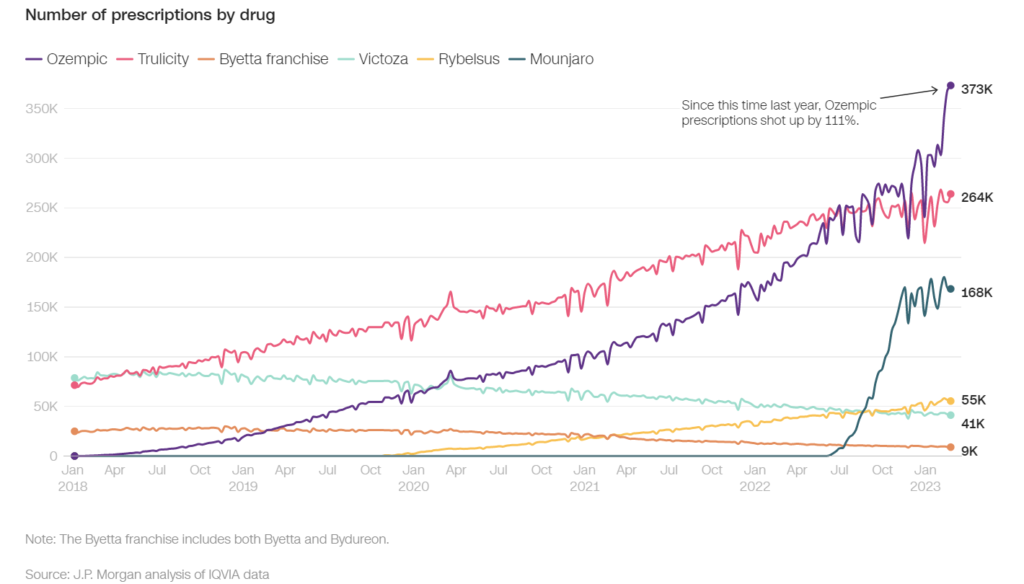 GLP-1 Receptor Agonist Shortage:
Australian perspective
Limited Ozempic (semaglutide) stock is starting to return to pharmacies
Although there will be small quantities of semaglutide available at local pharmacies during the second quarter of 2023 (according to distributors), supply will remain quite limited for some time. The Therapeutic Goods Administration (TGA) in Australia has been working with Novo Nordisk, pharmaceutical wholesalers and organisations representing health professionals and patient groups to manage the current shortage. They have been urging wholesalers to distribute the initial limited stock of Ozempic or other GLP-1 treatments equitably throughout Australia, including remote and rural areas that may face challenges in accessing them during periods of national supply shortage.
Information supplied to their GLP-1 patients
TGA is recommending that patients only fill their prescription for GLP-1 therapies if their doctor confirms that this is still the best treatment option for the specific patient. If they were forced to switch to a different medication due to the shortage, it is important to discuss their ongoing treatment plan with the relevant prescriber. They are also urging patients not to take semaglutide in combination with other diabetes medications unless directed by their doctor.
Information supplied to pharmacists
Initial limited supplies of GLP-1 therapies should be given to patients who cannot switch to other drug classes.
Patients who have switched to other glucose-lowering medicines during the shortage but still have a valid GLP-1 therapy prescription such as Ozempic should consult their doctor for guidance.
Information supplied to doctors
Allocate limited supplies of Ozempic or other GLP-1 therapies to current users or those who were using it before the shortage and for whom other medicines are not suitable.
Avoid starting new patients on GLP-1 treatment until supply stabilizes.
Consider alternatives to semaglutide for treating obesity until supply stabilizes.
GLP-1 Receptor Agonist Shortage:
American perspective
Guidelines provided by the American Diabetes Association:
During a shortage of GLP-1 receptor agonist therapy, alternative antihyperglycemic agents should be considered based on the patient's needs and preferences. For patients with chronic kidney disease, heart failure, or established atherosclerotic cardiovascular disease, substituting a sodium-glucose cotransporter 2 (SGLT2) inhibitor may be preferred. Because of the overlapping mechanisms of dipeptidyl peptidase 4 (DPP-4) inhibitors with GLP-1 RA it may be reasonable to use as a temporary replacement.
Known type 2 diabetes mellitus agents such as metformin, thiazolidinediones (TZDs), sulfonylureas, or basal insulin may also be considered. Risks, benefits, cost, dosing frequency, and method of administration should be considered for each individual patient.
A threat to independent pharmacies in the USA
Independent pharmacists in the US are stopping the sale of diabetes drug Ozempic because they are being underpaid by pharmacy benefits managers, according to a report by NBC. The medication, which has been used off-label as a weight loss aid, has become increasingly popular despite shortages. However, the average wholesale price of the drug is $900 for a 30-day supply, while pharmacists are reimbursed just $860 per prescription. The situation is part of a wider problem, with independent pharmacists often given lower reimbursement rates than larger retail chains. This has led to some pharmacists stopping the sale of brand-name drugs altogether.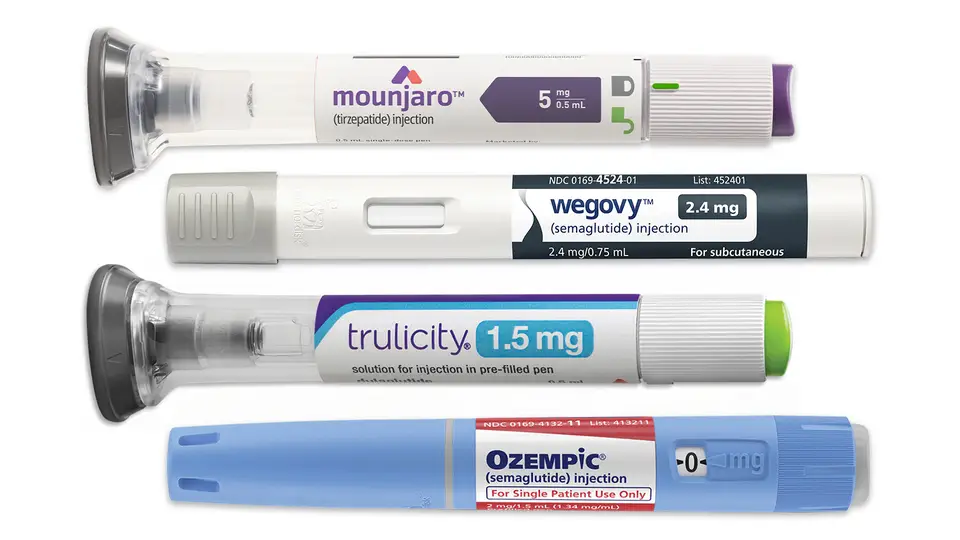 Source: Medpagetoday
GLP-1 Receptor Agonist Shortage: So

uth African perspe

ctive
While GLP-1 receptor agonist shortage in South Africa has not been systematically studied, observational evidence suggests that these medications are still difficult to obtain countrywide. In a recent LinkedIn poll conducted in South Africa, many pharmacists reported that the supply of GLP-1 treatments such as Ozempic is still disrupted, making it challenging for diabetic patients to access the medication they need. Although wholesalers are confirming that GLP-1 therapies are back in stock, many pharmacies have still not received stock or are simply unable to maintain adequate stock levels due to the uncertainty of the supply chain.
Pharmaceutical companies such as Novo Nordisk, who produces Ozempic, confirmed that stock levels would be restored by February 2023. Stock levels of Trulicity, manufactured by US company Eli Lilly, were reported to be fully restocked by March 2023. The shortage of supply of GLP-1 therapies in South Africa is said to be caused by the rise in demand for their off-label use.

Source: LinkedIn
The Promise and Challenges of Next-Gen Obesity Drugs
The semaglutide drug Ozempic, developed by Novo Nordisk, is currently dominating the US market, but competition in the pharmaceutical industry is pushing for even more potent medications. While previous generations GLP-1 agonists (liraglutide) have led to weight loss of 5-10% in most cases, semaglutide can lead to weight loss of up to 20%. The effectiveness of these new drugs will determine whether this pharmaceutical revolution meets its full promise.
Eli Lilly's diabetes drug, tirzepatide, also known as Mounjaro, is expected to be approved by the FDA for weight loss in 2023. In clinical trials, the drug led to a 20% or more weight loss in up to 57% of people who took the highest dose. The Wall Street Journal describes it the "King Kong" of weight loss drugs. Mounjaro is priced at around $980 while Wegovy costs about $1,350 and provides an improved side effect profile for patients. The drug works by mimicking the effects of GLP-1 and hitting receptors for another hormone, GIP, which leads to even more weight loss. Eli Lilly is also developing a drug called retatrutide, that targets three receptors (glucagon-like peptide 1 (GLP-1), glucose-dependent insulinotropic polypeptide (GIP), and glucagon receptors). Multiple companies, including Lilly, Pfizer, Amgen, Structure Therapeutics, and Viking Therapeutics, are competing to develop the next breakthrough obesity drug.
Future Developments in Weight Loss Drugs
The future trajectory of weight loss drugs is not solely determined by their potency and market value estimated to be worth $90 billion. Injectable drugs like Wegovy and Mounjaro are effective but less convenient than oral formulations and pharmaceutical companies are also pursuing the development of oral weight loss drugs. Pfizer and Eli Lilly are developing GLP-1 agonist tablets, with Structure Therapeutics likely to follow suit in the next few years. These products are expected to become available in 2026 and could unlock the weight loss market.
Access to weight loss drugs is a major issue and most private insurance companies consider cover for weight loss treatment as an exclusion. With more companies competing for this indication, the hope is to see a reduction in price for GLP-1 products with increased competition. Even if prices do decrease, the cost of oral forms of these drugs is still expected to be unaffordable for the average consumer even in many high-income countries.
Key takeaway points
The use of GLP-1 receptor agonists have become increasingly popular due to its weight loss benefit and the current production levels of these products are well below the demand levels globally.

A social media poll confirmed that stock levels are still critically low in 56% of South African local pharmacies.

While regulatory bodies and pharmaceutical companies are discussing potential solutions to the drug shortages, societies such as the American Diabetes Association are providing guidelines to assist with alternative treatment options for patients with type 2 diabetes mellitus as well as guidelines to assist with dosage changes to be made while GLP-1 therapies are low in stock.
The promise of new and advanced GLP-1 therapies is encouraging with new products speculated to enter the market as soon as mid 2023. Access to these drugs remain questionable as the cost is unaffordable to the average consumer and is not covered by most insurance for weight loss.
References
Whitley HP, Trujillo JM, Neumiller JJ. Potential Strategies for Addressing GLP-1 and Dual GLP-1/GIP Receptor Agonist Shortages. Clin Diabetes. 2023 Apr 7;cd230023.

Davies MJ, Aroda VR, Collins BS, Gabbay RA, Green J, Maruthur NM, Rosas SE, Del Prato S, Mathieu C, Mingrone G, Rossing P, Tankova T, Tsapas A, Buse JB. Management of hyperglycaemia in type 2 diabetes, 2022. A consensus report by the American Diabetes Association (ADA) and the European Association for the Study of Diabetes (EASD). Diabetologia. 2022 Dec;65(12):1925-1966. doi: 10.1007/s00125-022-05787-2. Epub 2022 Sep 24. PMID: 36151309; PMCID: PMC9510507.

Comparing Ozempic, Wegovy and Other GLP-1 Drugs – GoodRx [Internet]. [cited 2023 Apr 24]. Available from: https://www.goodrx.com/classes/glp-1-agonists/glp-1-drugs-comparison

Vu AC Han. Ozempic prescriptions can be easy to get online. Its popularity for weight loss is hurting those who need it most [Internet]. CNN. 2023 [cited 2023 Apr 22]. Available from: https://www.cnn.com/2023/03/17/health/ozempic-shortage-tiktok-telehealth/index.html

Administration (TGA) TG. About the Ozempic (semaglutide) shortage 2022 and 2023 [Internet]. Therapeutic Goods Administration (TGA). Therapeutic Goods Administration (TGA); 2022 [cited 2023 Apr 24]. Available from: https://www.tga.gov.au/safety/shortages/information-about-specific-shortages/about-ozempic-semaglutide-shortage-2022-and-2023

Ozempic shortages? Some pharmacists are choosing not to stock the drug at all [Internet]. NBC News. 2023 [cited 2023 Apr 24]. Available from: https://www.nbcnews.com/health/health-news/ozempic-wegovy-shortages-pharmacists-not-stocking-rcna71610

Tayag Y. Ozempic Is About to Be Old News [Internet]. The Atlantic. 2023 [cited 2023 Apr 22]. Available from: https://www.theatlantic.com/health/archive/2023/04/ozempic-wegovy-mounjaro-weight-loss-drug-development-access/673627/